| | |
| --- | --- |
| | Structure |
BASELINES/BILLS OF MATERIAL (BOM) STRUCTURE
The product development process begins with an analysis of your customer's needs and your company's capabilities and ends with the definition of a competitively priced product that you can build to suite the customer's needs while, at the same time, meeting your company's profit objectives. When the concept is defined, validated, and released for production, a baseline is created, documented, changed, and managed throughout the product's life cycle. The end item is described in accordance with the baseline documentation and controlled through a hierarchy of related documentation required to produce and manage the product.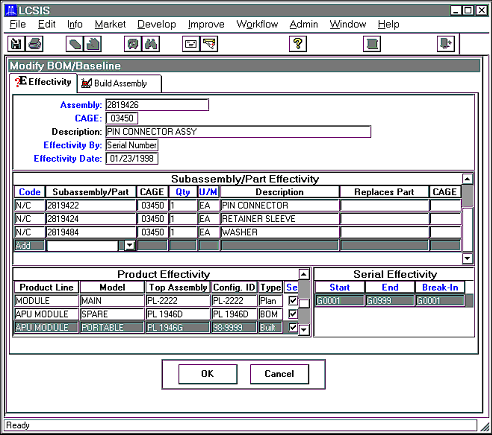 LCSIS provides you with the tools to develop, manipulate, and view the evolving structure or life cycle phase of any product logically. The three basic, associated, document sets used for this purpose are the Bills of Material (BOM), the configuration baselines, and the family tree.
Product configurations are displayed in a format that shows logical relationships between components or assemblies and their subassemblies. LCSIS baselines join all the items that represent a single configuration (components, names of suppliers, features, tooling, jigs, and fixtures) and capture the interrelationships between items, creating an understandable view of the product for the user.
LCSIS baseline features:
As-Planned baseline
As-Built baseline
As-Modified baseline
As-Modified Maintenance History
As-Modified Revision Tracking
Authorized Mfr./Supplier List
Serialized Part Tracking
Effectivity by Serial and Date
Baseline Compare
Document View
Find Query
LCSIS provides you with the flexibility to respond to a wide variety of data management challenges presented during the creation of baselines. LCSIS baselines help you define BOMs for existing products and create new baselines for new or modified product lines. Users may access family trees and display part numbers, revisions, and graphics of the end-item. Data can be entered into a baseline incrementally to allow for development of a completely new product over an extended period of time.
A parts catalog provides a detailed listing of all parts contained in the LCSIS database. Pop-up windows show alternate/equivalent parts, approved vendors, and where used citations.