| | |
| --- | --- |
| | Workflow |
Workflow manages enterprise-wide processes by defining project names and teams and controlling stages of work through a Workbasket of tasks that is completed, reviewed, and promoted to the next stage of production. Management may define task sequences to be performed both before and after release. Workflow supports the change and review process by allowing electronic portrayal of current procedures, creating an on-line history of product changes, and providing distribution of changed information.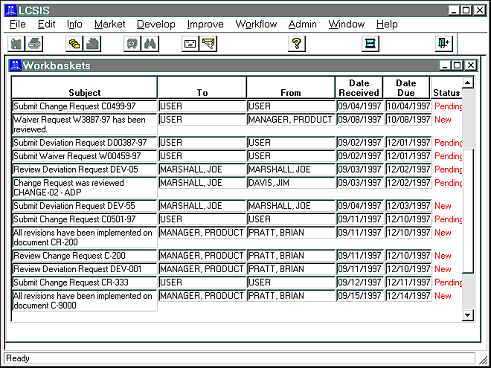 The workflow feature is easy to customize and use, with versatile, user-defined process templates, and an on-demand reporting system. LCSIS workflow provides users with an effective set of automated production management tools to record and assess the workflow processes that already exist in the company and to implement process improvements within an enterprise-wide framework.
Workflow is the primary LCSIS interface for managing and tracking production processes. Workflow lets everyone in your company know the most important job to work on at all times, and who is responsible for doing it. Several instances of a process may be managed simultaneously. A conditional processing/routing function allows tailoring of assigned tasks. For example, a user might suspend a task pending receipt of product data or test results, while managers will still have access to process metrics and status tracking for each task. Workflow actions are transmitted by using the Workbasket, a user-specific display that prioritizes and tracks assigned functions. Work packages are placed in a user's Workbasket, which appears on-screen after the user logs in to the system or after the user selects the Workbasket from the toolbar or drop-down menu.
LCSIS workflow features:
Workflow Process Creation
Workflow Editor
Launch Projects (workflow instances)
Workflow Status
Process Duration Tracking
Performance Metrics
Integration with change control and e-mail functions
Administrators may control who is allowed to submit products to life cycle control and what types of objects may be submitted. For example, the administrator may determine the routing for the review and approval process, define the process in either parallel or serial steps, and also select the voting rules for each process. Assignments can be focused to support the timely execution of repetitive workflows. Participants with signatory responsibility for approval can be designated by the administrator. The Workbasket is used to route a task; execution of the task is documented.
For users, the Workbasket automates daily tasks that would often be cumbersome and non-productive, freeing them to become involved in value-added activities. Once the process and the product baseline have been established, there are two basic ways a user will interact with them. The first is submitting objects to a baseline and the second is signing off on a task assigned to them through the Workbasket.
Electronic project folders attached to workflows contain the comments, sample files, scanned photos, or other digital objects relevant to the process. Participants can add objects to the folder while the project is active in their workbasket. Once the designated task is complete, the workflow package is forwarded to the appropriate participant with the click of a button.
These user actions are real-time transactions that take only seconds to perform (primarily the result of the availability of electronic product documentation over the use of hardcopy), removing mail-stop paper routing delays from your processes.